Andrew Ian Smith (also known as "安逸") is a British national, currently located in Xiamen, and one of the first international business leaders who will join the Global Executive Program in China (GEPC) - Opportunity in Diversity: Decoding the Dynamic Chinese Economy starting from January 2022.
From 2010 to 2016, Smith worked for an international healthcare company, and launched digital health services in Africa, Europe, India and Chile, plus a global wellbeing app. From 2017, Smith was in Bangladesh where he co-founded with Nobel Laureate Professor Muhammad Yunus the largest digital health company in the country - Grameen Digital Healthcare Solutions. With 6 million registered patients, 2 million doctor consultations provided, and online-offline services with over 500 pharmacies and diagnostic labs, the company helped transform access to healthcare in rural Bangladesh.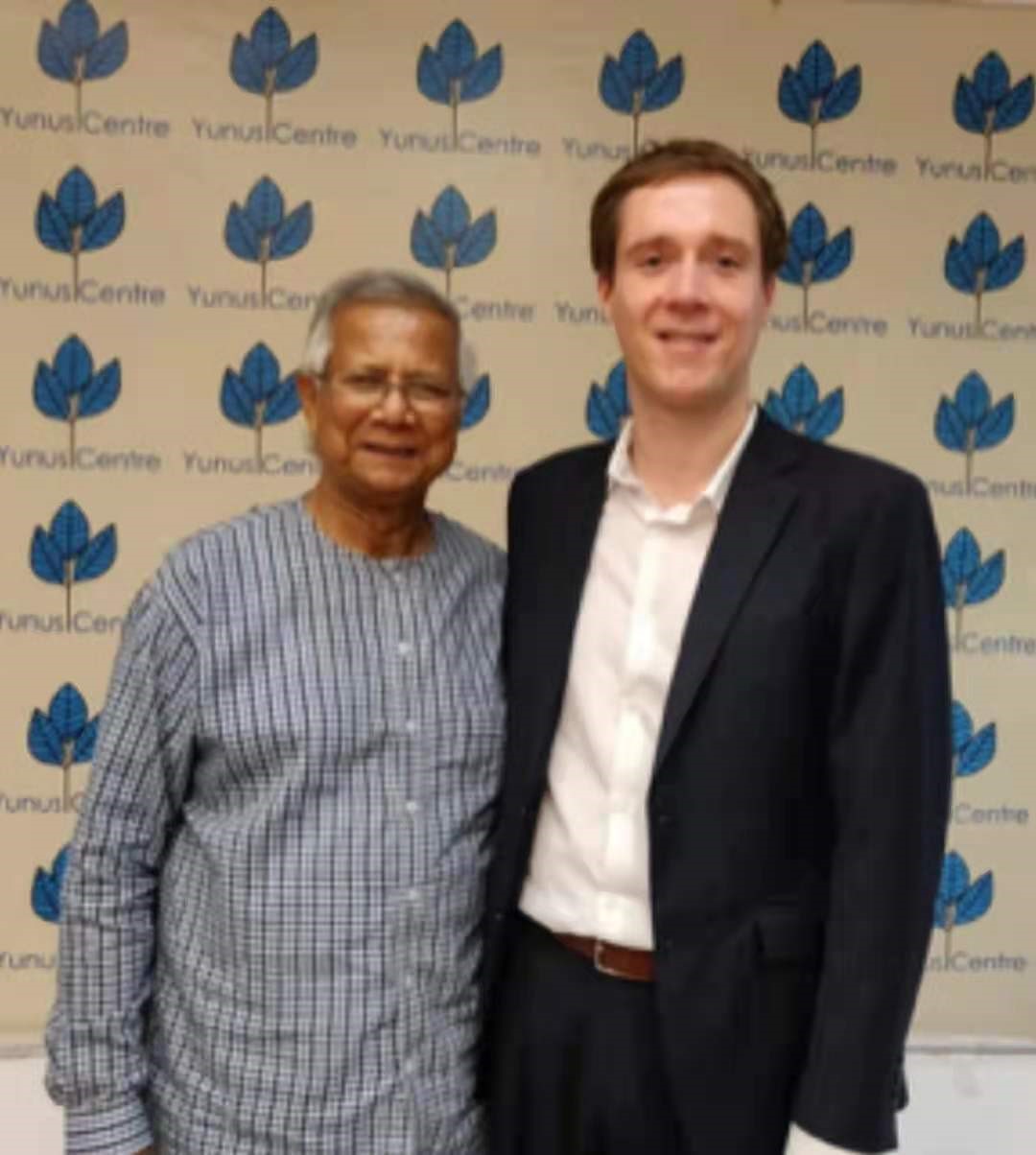 Andrew Smith and Nobel Laureate Professor Muhammad Yunu
Smith landed in China seven months ago to create new partnerships with Grameen's Chinese medtech partners. He was amazed by the fast-pace, extreme practicality, and real-world results of the Chinese medtech work environment. Believing in his "China dream (中国梦)" as he called it, he has now become the Chief Representative Officer of an international medical technology accelerator that just opened its first ever China office.
"Every month there is a new medical advance in China like developing antibody therapies for certain cancers, harnessing the natural processes of the body to fight tumors, or using AI and diagnostic devices to scan the retina of the eye and detect 50 different health conditions, from myopia to diabetes and dementia", he said.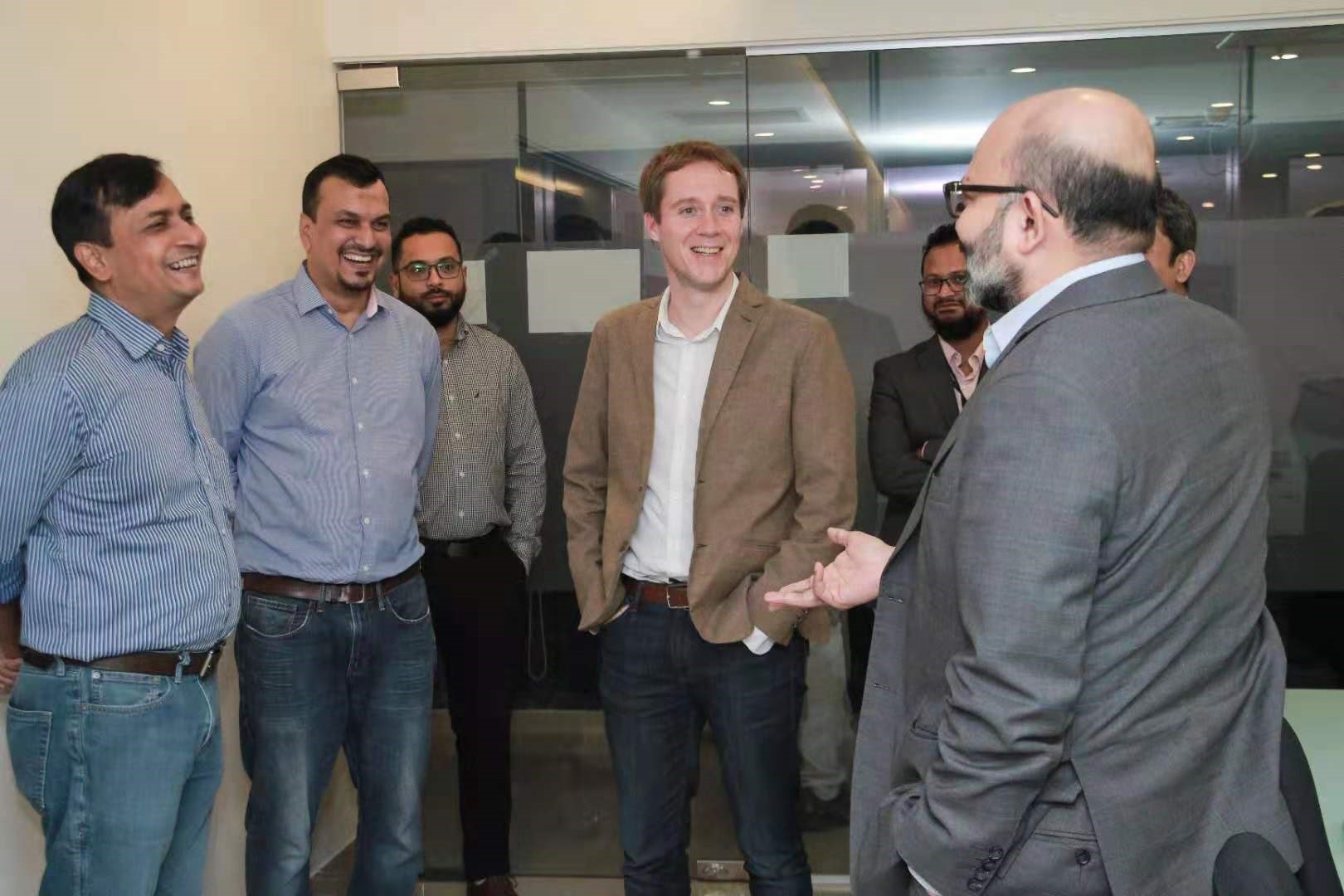 Andrew Smith and CEO of bKash (owned by Alibaba, No.1 micro-finance service in Bangladesh)
To get a deeper understanding of the Chinese culture and the innovation ecosystem, Smith chose to enrol in the Global Executive Program in China (GEPC) - Opportunity in Diversity: Decoding the Dynamic Chinese Economy offered by Tsinghua University.
The choice of Tsinghua University
Tsinghua University is one of the best university in China and one of the top ones in the world - ranking 15th in the world by QS World University Rankings in 2020. It was considered by Smith as a hub of opportunities where he can strengthen his skills through an amazing teaching quality and broaden his network through Alumni and professors. Aiming to study with and under the best minds in the country, he thought this program was the best fit for him.
Being a professional in the medical field, Smith noticed that a lot of medical, technology and AI innovators and investors were formed in Tsinghua University so he could tell the strength of its network, innovation and policy making across the key sectors.
Expectations from this program
With the program's main focus on innovation and investment, Smith said that he was expecting to get "a deeper knowledge of where the whole innovation ecosystem is going, where the Chinese VC funds are really investing within the Med-Tech and Biotech sectors, and where government R&D (research and development) support might create future opportunity".
He added: "Deep dive visits to the AI innovation cluster in Beijing, Biopharma innovation clusters in Shanghai, and medical devices hubs in Shenzhen, will be very useful."
Because this program is constituted of online and offline learning, Smith waited to meet stakeholders including: innovators, investors, policy makers and leaders both inside and outside of China, including those working on healthcare projects across countries in the Belt and Road Initiative.
The future benefit from the program
As a Tsinghua graduate, Smith will have a rich network of faculty and alumni that will help him unlock future opportunities, particularly how to support the best Chinese medtech and health-AI innovations to expand internationally, to Bangladesh with Grameen, and beyond with the accelerator Harbr (Harbr helps Grameen find new medtech partners. Dr. Niti Pall, chair of Harbr, was also Medical Advisory Board of Grameen) into South and East Asia, Middle East, Europe and Africa.
Understanding the Ecosystem and having the knowledge of local people will not only help Smith improve his work in China, but also be capable of helping Chinese companies expand rapidly abroad with the right partner hospitals, health insurance providers, clinic or optical chains.
Smith thought through the program's curriculum and valuable company visits, new opportunity will be created: "It will help me identify the most promising technologies and companies, which have driven growth and health impact in China, and who are ready to make the international leap", he said.
Advice to applicants
China is full of opportunities and will lead the world on technologies like renewable energy, electric vehicles, AI health analytics, genetic profiling and next generation medicine development. This course will be a great way to work and be part of the ecosystem. Participants in this program can make changes and contribute to what's happening in the world.
Smith connected his Chinese name (安逸) to the decision to join the course: "My partner explained a Chinese saying to me: '安富尊荣, 逸群之才' (enjoy a prosperous life, be an outstanding talent). I think by being part of the Chinese innovation ecosystem you really do have the chance to create wealth, support social development, and make a better life for humanity".
On a personal level, this course also opens the door to discover a different culture and society. It is a great opportunity to enjoy the warmth and friendliness of Chinese people, he said.
About the program
Global Executive Program in China - Opportunity in Diversity: Decoding the Dynamic Chinese Economy
This program is designed to provide senior executives and business leaders with a comprehensive view of leading and managing business effectively in the fast-changing context of China, in a manner that is compatible with Chinese business practices, regulatory frameworks and consumer expectations. The 7-month program is divided into Live-Virtual Modules and On-Campus Modules (in Shenzhen, Shanghai, and Beijing). Participants can take the Live-Virtual Modules and On-Campus Modules independently.
Contact us
Email: exedglobal@sem.tsinghua.edu.cn
Tel: 8610-62792367; 8610-62772944
Source: Executive Education