"The Creation and Growth of Technological Enterprises", Tsinghua University's first global public course of the semester, began September 14 as part of the Global Hybrid Classroom (GHL) project started by the Global MOOC Alliance (GMA) for the fall semester of 2021. The course has enrolled students at universities around the world. More than 30 students from Columbia University, Yale University, Nanyang Technological University, Mongolia University of Science and Technology, University of Chile, University of Ibadan and other schools joined the course online.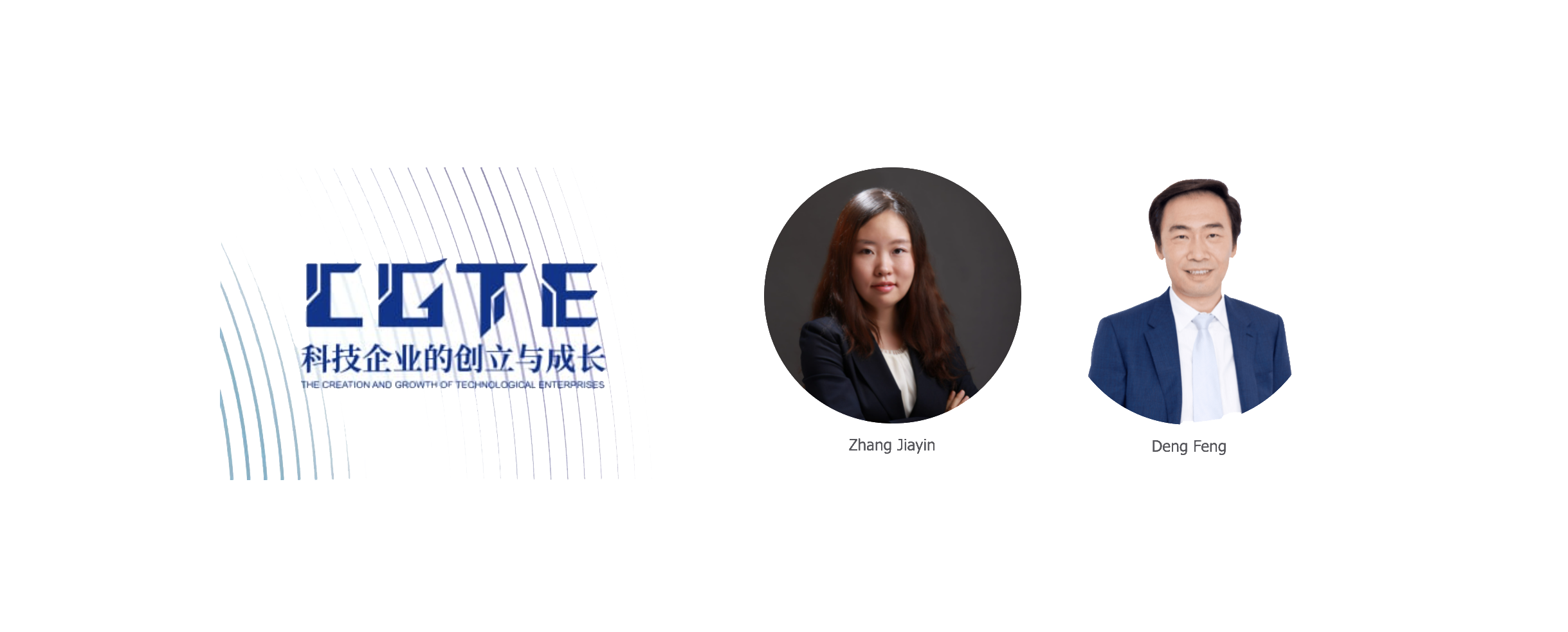 The course was designed and developed by ZHANG Jiayin, an associate professor in the Department of Leadership and Organization Management, School of Economics and Management (SEM), Tsinghua University, and DENG Feng, founder of Northern Light Venture Capital and Distinguished Visiting Professor at Tsinghua University. The course, presented by DENG, offers a novel interpretation, discussions and opinions about the commercialization of new technologies, key elements and general laws of technology business creation and growth through close integration with China's practice.
Professor BAI Chong-En, dean of Tsinghua SEM, addressed through video.
Professor BAI Chong-En, dean of Tsinghua SEM, said in a video message that the course was organized according to key aspects of technology commercialization and the creation of technology enterprises. The course has no restrictions on students' professional backgrounds, highlighting the value of integrating technology and business, technology and products, and values and business models.

BAI said a key feature of the curriculum is its close integration with China's practice. The course, embracing China's strong technology and green development strategy, underlined the value-driven role of "hard science and technology" and sustainable development, with special attention given to technology ethics, the social value of technology, digital empowerment, and impact investment. The content will provide students with in-depth and forward-looking views and teaching discussions.
DENG Feng said the course focused on topics of innovation and entrepreneurship: identification and analysis of business opportunities; defining and developing products; digital transformation and organization building of enterprises; venture capital and impact investment; and leadership and values. It aimed to cultivate students' global vision and skills in technology entrepreneurship, improve their market awareness and product knowledge, and enhance their abilities in creativity, management and leadership.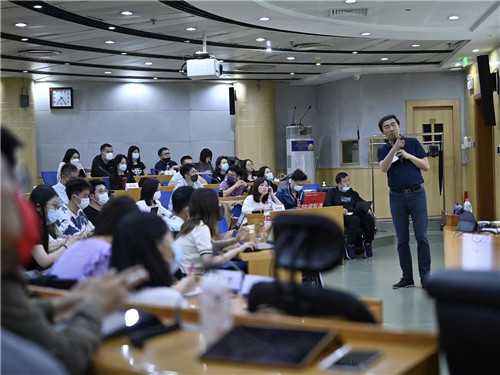 DENG Feng, founder of Northern Light Venture Capital and Distinguished Visiting Professor of Tsinghua University, gave a lecture to students.
"In the next decade, investing in China's tech start-ups and tech ventures will be the best opportunity in history," DENG said. He spoke about the growing importance of technology companies in the social economy during his lecture, saying that technology innovation is playing an increasingly important role in economic development. Technology companies occupy nine of the top ten companies in global market capitalization, he said.
DENG replied to students' questions during the lecture. He explained why he created the course, why it is focused on technology companies, and what are its key elements of innovation and entrepreneurship. DENG also introduced his own entrepreneurial and investment experience to help students understand how to find and judge business opportunities.
DENG used case studies to discuss with students about hot topics such as artificial intelligence, the metaverse and the consumer market for the elderly.
DENG interacted with the students and inspired them to think. Offline students raised their hands to answer; online students participated in the interaction through pop-ups and comments, asking questions about how to accurately capture market information and the challenges Chinese companies face in overseas markets.
The students - with the encouragement of DENG - put forward business ideas such as traceable medical waste, travel itinerary planning and fast charging for electric vehicles. DENG listened to each and asked questions about market demand, investment value and more to help the students to analyze the feasibility of their ideas and put forward specific recommendations from the perspective of an investor.
DENG said the first task of starting a business was to understand user demands: figuring out whether these are rigid demands, unmet potential demands or pseudo-demands. Next, it's important to determine whether the market is promising - for example, considering whether it is fully competitive or not fully competitive, and whether it is a stock market or an incremental market. The last task is to determine whether it is a right time to start the business, and whether it is targeting an old market or a new market.
DENG said students should pay attention to changes and explore the opportunities they provide. "When you want to innovate, you must first be able to feel the change. If you are sensitive to change, you can discover many new business opportunities." DENG encouraged students to develop the ability to discover new business opportunities, improve their business sense and be more business-minded in their daily lives, enhance their curiosity, and be the first to spot new business opportunities.
"After taking the course, I have a new perspective on market hotspots," said LUO Kaiyun, a student from Tsinghua SEM, "It would be better to avoid chasing hot spots when the industry is hot, enter industries in an early stage and develop foresight. I also have a new definition of how to evaluate good entrepreneurs. Ability is the primary criteria, but one's value is more important. As for how to become a good entrepreneur, I've learned to have a product manager mindset, combining technology and demand to seek out a niche market."
A nother student ZHAO Zicheng said, "Professor DENG brought me a high-level perspective through his own long-term experience in entrepreneurship and investment, thinking from a more systematic, macro and long-term perspective about how to seize opportunities and create value in the process of starting and growing our technology companies."
LI Jianyong, from the Department of Industrial Engineering, said, "Professor DENG spoke with us about several distinctive corporate cases involving the selection of a business model and the re-discovery of user demand, which enabled us to understand key success factors of each company in a more in-depth way."
DENG Feng, an electrical engineering graduate at Tsinghua University, founded Northern Light Venture Capital in 2005 as a founding managing partner. Currently, DENG manages six US dollar funds and four Chinese yuan funds valued more than 30 billion yuan under management. He has led Northern Light's investments in more than 400 companies in the high-tech, Internet, consumer and healthcare sectors. Northern Light Venture Capital focuses on investing in early-stage, technology-innovative companies, emphasizing "team, market, and innovation", and consciously promoting communication and mutual learning with entrepreneurs.
As BAI acknowledged, GHL opens Tsinghua's high-quality courses to top overseas university students over the Internet. The course relies on a creative teaching method, to deepen students' awareness and skill in co-education and develop a sustainable community.
Editors: REN Zhongxi, L Ying, Derrick Sobodash