To preview its new global executive program "Opportunity in Diversity: Decoding the Dynamic Chinese Economy", Tsinghua University School of Economics and Management (Tsinghua SEM) held an online lecture by Prof. HE Ping. The public lecture entitled "Economic Growth of China and Re-globalization" was offered online via zoom on September 15.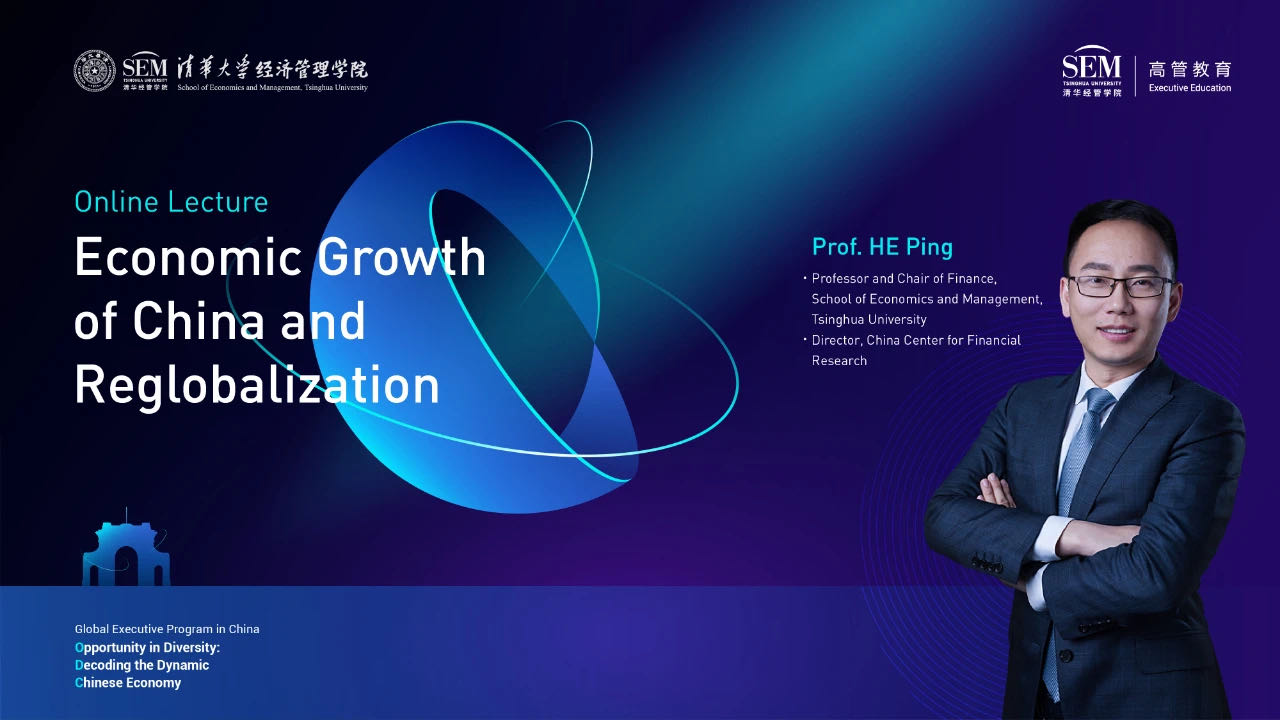 HE Ping is a professor and the chair in the Finance department of the School of Economics and Management, Tsinghua University and the director of China center for financial research.
This webinar featured a detailed lecture and a Q&A session to explain to around 300 registrants from more than 40 different countries the past economic growth of China and the way to Re-globalization.
Prof. He first lectured on globalization and its impact on China's economic growth. He enumerated the reasons of this growth, compared China's industrial chain and trade to other prominent countries and explained the old framework of international monetary system.
He then pointed out the problems brought by globalization such us the non-sustainability of the old international monetary system and the unfairness between developing and developed countries to conclude with the urgent need for Re-globalization.
Prof. He next defined Re-globalization and elaborated on how it brings restructure in global division of labor and international trade as well as on how it brings reform in international monetary system.
Finally, given the global pandemic situation, Prof. He talked not only about China's internal policies but also about its external policies for post pandemic economic growth. Internally, China is opting for a change in old directions and growth mode, restructuring its financial system, and accelerating digitization together with green development. Externally, China is relying on the Belt and Road Initiative to promote a stable and sustainable new model of economic cooperation with cultural inclusion.
In the Q&A session, Prof. He answered attendees' questions regarding the newly announced Beijing stock exchange, the internationalization of the RMB, China's policies and initiatives internationally and China's capacities in the Fin tech industry.
About the course
The global executive program "Opportunity in Diversity: Decoding the Dynamic Chinese Economy" is designed to provide senior executives and business leaders with a comprehensive view of leading and managing business effectively in the fast-changing context of China, in a manner that is compatible with Chinese business practices, regulatory frameworks and consumer expectations.
The 20-day program is divided into Live-Virtual Modules (8 days) and On-Campus Modules (12 days, in Shenzhen, Shanghai, and Beijing). Participants can take the Live-Virtual Modules and On-Campus Modules independently.
Source: Executive Education