Tsinghua University School of Economics and Management (SEM) held its opening ceremony for its 249 freshmen in the Class of 2025 on the afternoon of September 3 in the lecture hall of the Weilun Building. Professor BAI Chong-En, dean of Tsinghua SEM, Professor ZHONG Xiaohan, deputy party secretary of SEM CPC Committee and associate dean, and Professor ZHAO Dongqing, deputy party secretary of SEM CPC Committee, attended the ceremony.
Professor BAI Chong-En gave the opening address. He spoke about SEM undergraduate cultivation, his own experiences and his expectations for new students in the context of the current era.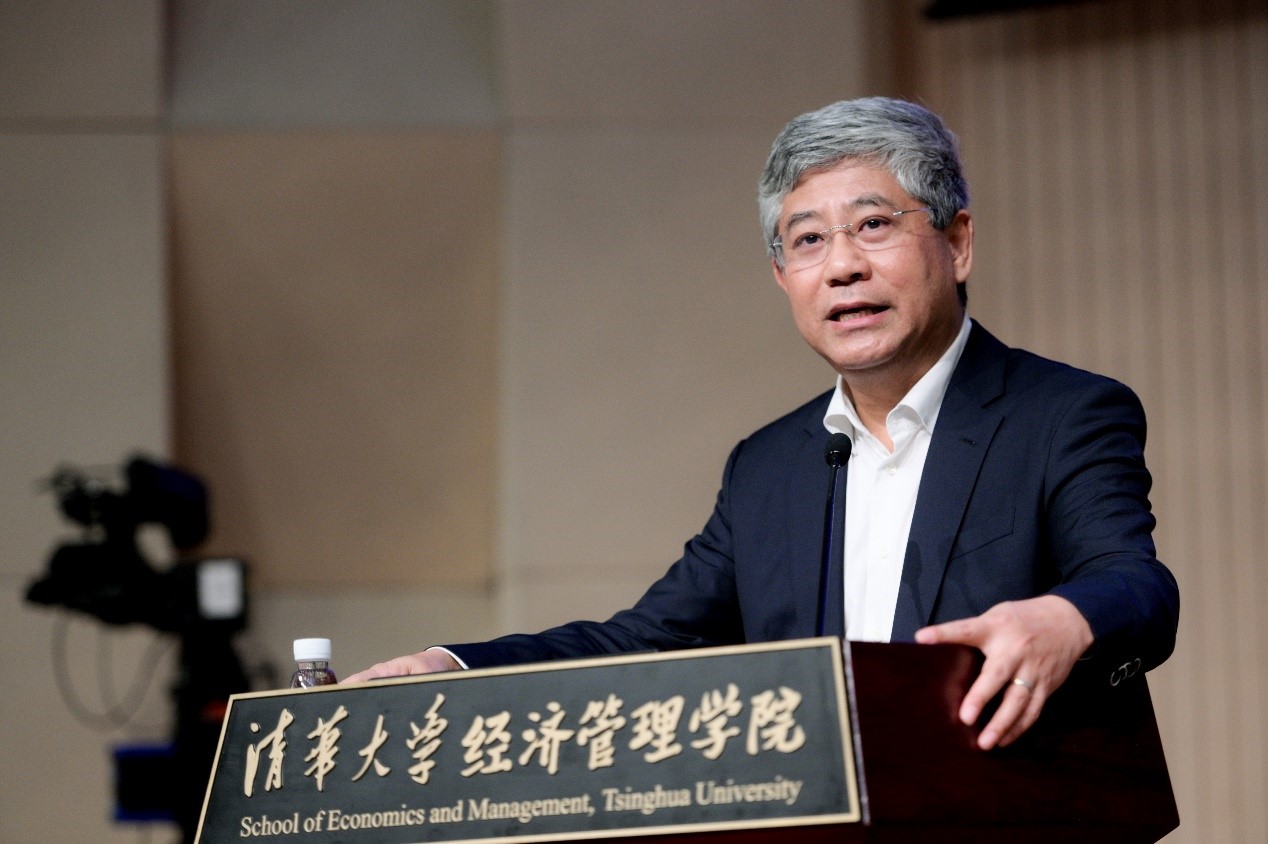 BAI Chong-En, dean of Tsinghua SEM, spoke at the opening ceremony.
Recalling his academic career, BAI said he was touched by CHEN Jingrun's outstanding proof of Goldbach's Conjecture made under difficult circumstances when he was in high school. At that time, China was accelerating its four modernizations, among which it emphasized science and technology. Society's focus on scientific research inspired BAI: believing "science and technology constitute a primary productive force," BAI chose to study mathematics as an undergraduate. As he learned more about society, BAI realized that although mathematical research was important, it was more important to create opportunities for more people to use their talents. He changed his academic direction and began to research economics, and his subsequent development was deeply influenced by his mathematical training.
BAI used this experience to speak about the importance of basic education. Mathematical tools are useful in the study of economics, but basic education is a greater asset that improves a person's thinking and opens a different world. BAI said it was profound and concise to use Cauchy's general principle of convergence in calculus to construct a system of real numbers and understand the beauty and power of math. Respect and reverence for the spirit of science and logical thinking marked BAI's life and influenced his career and professional attitudes, which is the value of a liberal arts education.
BAI said people today have a broader vision and more opportunities to gain knowledge and experience than they did decades ago. "On the one hand, we need to focus on the essentials, which are beautiful, powerful, and respectable, and last for eternity no matter how the world changes. On the other hand, times are changing dramatically and we must adapt, look up and forward, and make adjustments," BAI said. He mentioned the educational philosophy of SEM, and how a liberal arts education helps students develop values, a sense of reverence, and lifelong determination. The personality development of liberal education gives students a broad view to find a path that suits them in the changing environment. The school's value shaping cultivates qualities such as empathy, respect for science, curiosity, and perseverance; its competency development emphasizes critical thinking, solving complex problems, communication, and leadership skills.
BAI spoke about the high growth rate China has achieved in the four decades since its reform and opening. Today, China's economy is shifting from rapid growth to quality development, which requires a focus on independent innovation and willingness to learn from advanced economies. In addition, society is placing greater emphasis on equity, and the goal of shared prosperity is becoming important as economic development increases and people seek higher levels of value. "You need to think about what kind of person you want to be in these times," BAI said. Challenges and opportunities coexist: the global economic and political landscape has undergone major changes, the clash of civilizations and cultures has become increasingly prominent, and the ability to innovate, manage and communicate across cultures is ever more valuable. Algorithms used by applications to curate information push certain opinions to reinforce biased thinking, which destroys society's common factual basis and makes communication between different groups ever more difficult. People need to respect the spirit of science and advocate stepping out of narrow circles to seek common facts and use logic as their basis for thinking and decision making.
BAI said that in the face of the new characteristics of the new era, how to shape values compatible and acquire the ability and knowledge to adapt are questions everyone has to answer. The school will provide a broad platform and personalized teaching programs, but students must also develop themselves and possess an indomitable spirit when facing uncertainty and frustration. "Don't lie flat in the face of setbacks, but stand up and keep going, pick a 'hill' and move steadfastly towards it. You can stop and look at the scenery on the way, but you can't give up halfway," BAI said, "I hope you keep climbing your own mountain in frustration and find a beautiful picture at the top."
Afterwards, BAI presented copies of Zhu Rongji On the Record to representatives of the new undergraduates on behalf of the school.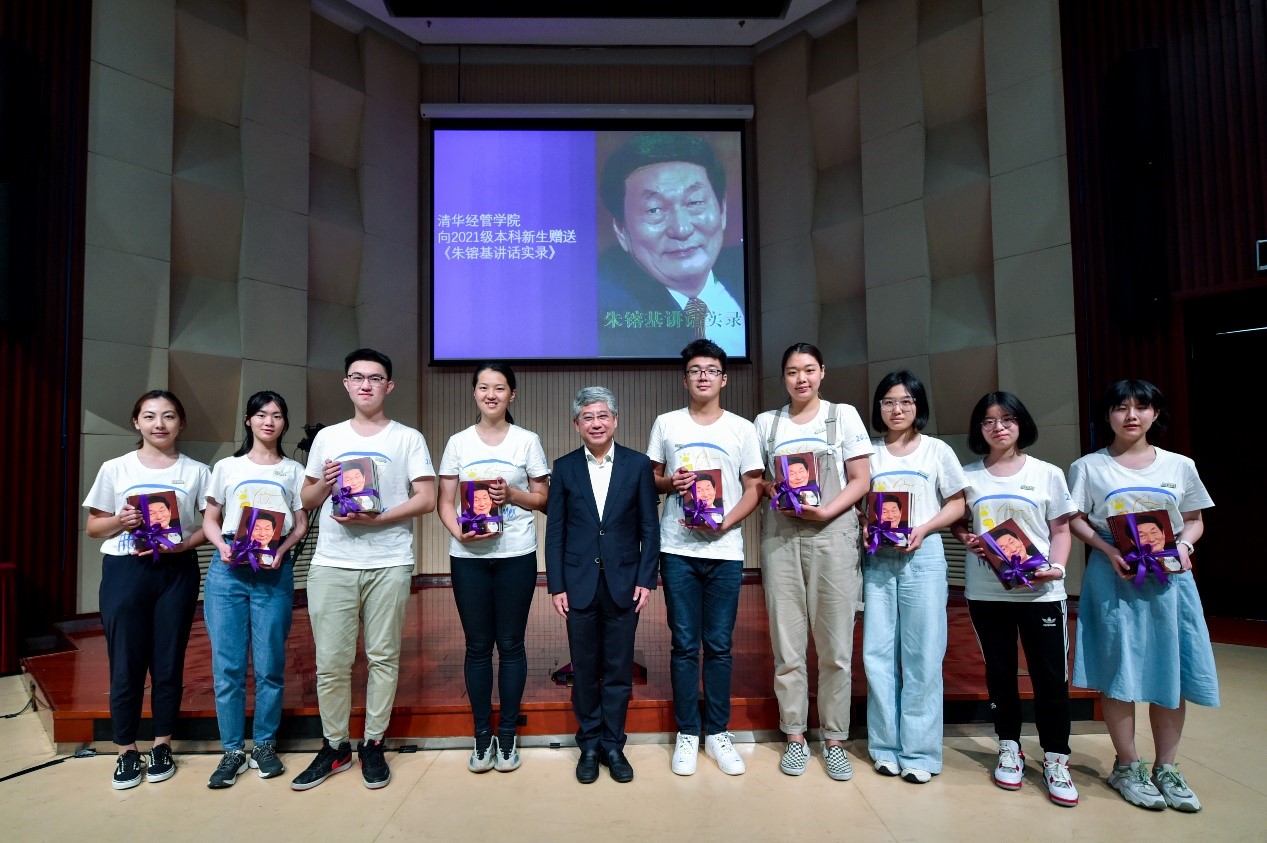 BAI Chong-En presented copies of Zhu Rongji On the Record to the new undergraduates.
Professor XIAO Yongbo then spoke on behalf of the teachers. As an alumnus of SEM, he shared his experience of studying in Tsinghua for more than a decade. He said although the conditions, faculty strength, and international reputation have fluctuated, Tsinghua's focus on improvement and virtue are sure to attract outstanding students.
XIAO said the university is a place to learn, and Tsinghua is known for its rigorous learning style and atmosphere: entering Tsinghua does not mean the end of learning, but the beginning of a lifetime of learning. University education is very different from high school in terms of content and assessment, and is more self-driven. New students need to quickly adapt to the pace of learning and find a suitable method for themselves. In terms of in-class learning, many students who are new to college face confusion. There is greater autonomy in choosing university courses, and students must develop a personalized training program that combines their career plans and interests, and then choose what they really want to learn. XIAO said, "Course knowledge is important, but it is more important to use them to form your own learning methods and improve your learning ability. Give a man a fish and you feed him for a day. Teach a man to fish and you feed him for a lifetime." In terms of extra-curricular learning, students must cultivate a spirit of independent exploration. For example, they should pay attention to macro policies, economic news and information, enterprise development and management. They should make full use of the resources inside and outside the classroom, participate in reports and lectures organized by the college, and experience internships and scientific research. Students had better allocate their limited time to a variety of studies, have a fulfilling college life, improve their understanding of themselves through effort, and lay a solid foundation for future development.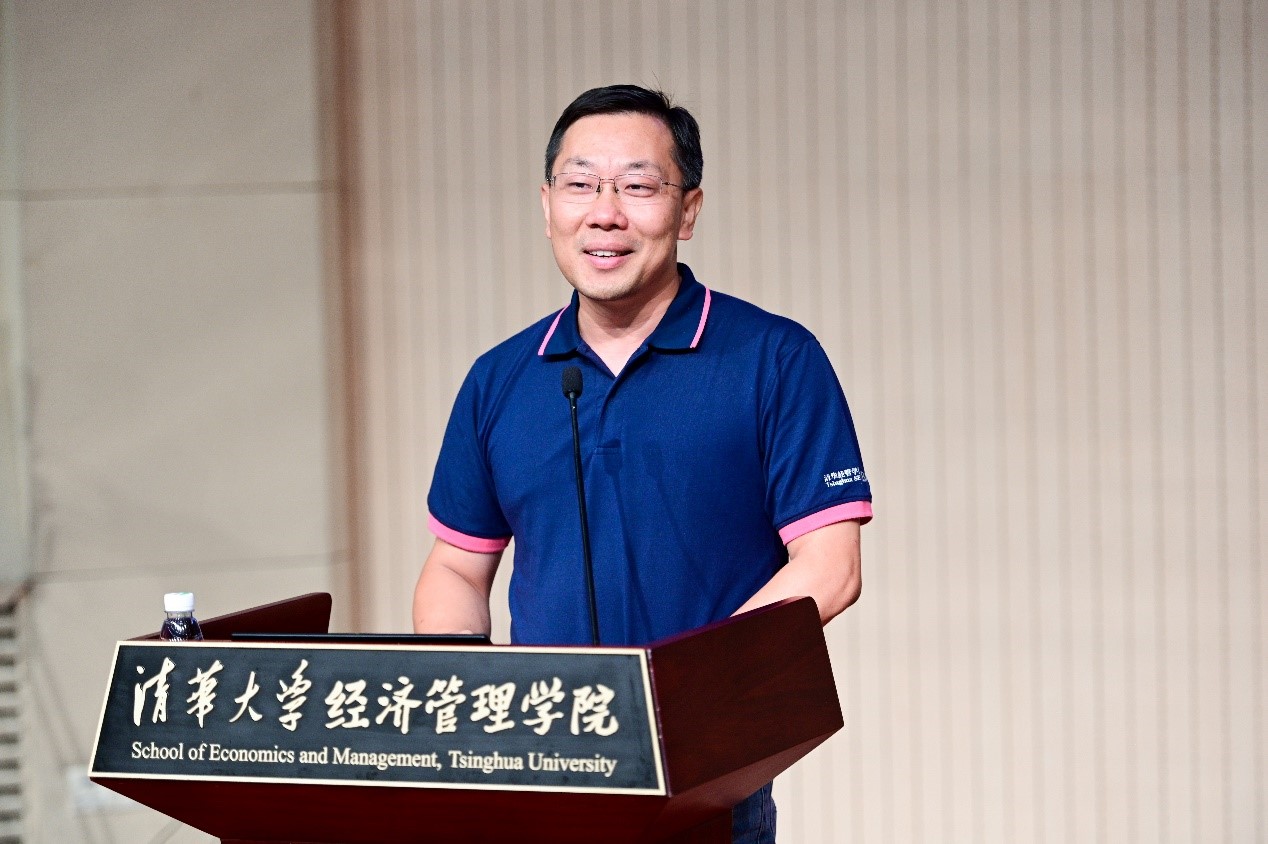 XIAO Yongbo, the teachers' representative, spoke at the opening ceremony.
XIAO teaches Operations Research at SEM: the topic of management optimization is among its most important. Decision trees can be helpful when faced with complicated choices, XIAO said, "The first thing you need to do to draw a decision tree is to clarify the purpose: what kind of person do you want to be, what role do you want to play in society, and what value do you want to achieve in life.As you have just entered college, you may not have all these answers. So you should cherish your college life, explore, fill out your own decision tree and outline a clear and optimal solution for your life."
JIN Huizhi, a Class of 2022 undergraduate student, and ZHANG Jiachi, a Class of 2025 undergraduate student, spoke on behalf of former students and new students. JIN, president of the Student Union of SEM, told students about his own experiences at Tsinghua with study and social work. "Be brave to challenge and face difficulties", JIN said, to discover greater possibilities and grow. Students should also "accept the gap and keep exploring", make use of the various development resources provided by the school, explore the outside world, and turn their competitive pressure into motivation. JIN advised freshmen to "know yourself, pursue your ideal", moving between disciplines and discovering their passion. ZHANG shared her first impression of Tsinghua and how she looked forward to her four years of university life with the "Three Philosophical Questions": who am I, where am I and what am I going to do? The practical spirit of Tsinghua and the sports culture of "no sports, no Tsinghua" touched every student. She said she hoped to exercise and grow in Tsinghua, gain precious friendships, turn her knowledge to the service of the motherland, and shoulder the responsibility of SEM graduates in the current times.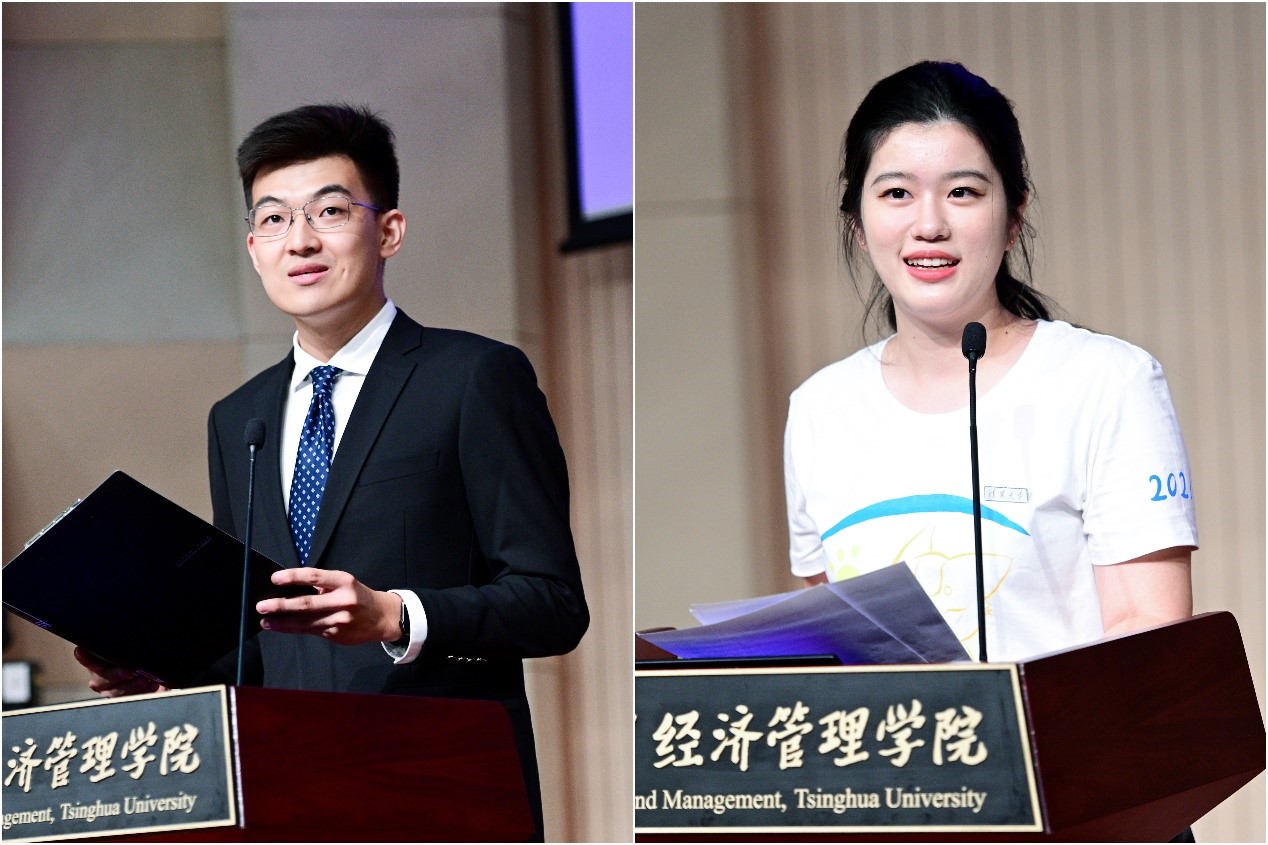 JIN Huizhi (left), a Class of 2022 undergraduate, and ZHANG Jiachi (right), a Class of 2025 undergraduate, spoke at the opening ceremony.
Professor ZHONG Xiaohan introduced the departments and work teams under SEM. He also introduced the educational philosophy of liberal arts education and personality development and the school's training goal of "trinity". He explained the importance of university education by sharing the examples of Steve Jobs, WANG Guowei and MEI Yiqi. The school's colorful curriculum, well-organized support system and abundant resources provide solid foundation for students' growth and success, he said.
ZHAO Dongqing spoke about academic ethics and student discipline. She recounted real stories that happened on campus, explained the importance of abiding by school rules and community discipline, and emphasized the negative consequences of academic misconduct. She reminded everyone to be respectful of academics. In today's special situation of epidemic prevention and control, it is even more important to follow the school's strict prevention and control and approval system. ZHAO emphasized that education is a continuous process, and students should gradually move from receiving school education to self-education so as to develop good habits of lifelong learning.
ZHONG Xiaohan (left), deputy party secretary and associate dean, and ZHAO Dongqing (right), deputy party secretary and associate dean, spoke at the ceremony.

Academic coordinators of SEM undergraduate program Professor GUO Xunhua and Professor ZHANG Haiyan, class advisor representatives Professor WU Binzhen and Professor LIN Zhijie, and director of the Academic Affairs Office ZHANG Lei, also attended the opening ceremony. GUO Zhaohui, head of the Student Working Group and director of the Student Affairs Office, SUN Wei, director of the International Office, and GU Yingjie, director of the Career Development Center, introduced student work and student activities, international exchange opportunities, and student career guidance.
The opening ceremony concluded with all the teachers and students singing the Tsinghua University anthem.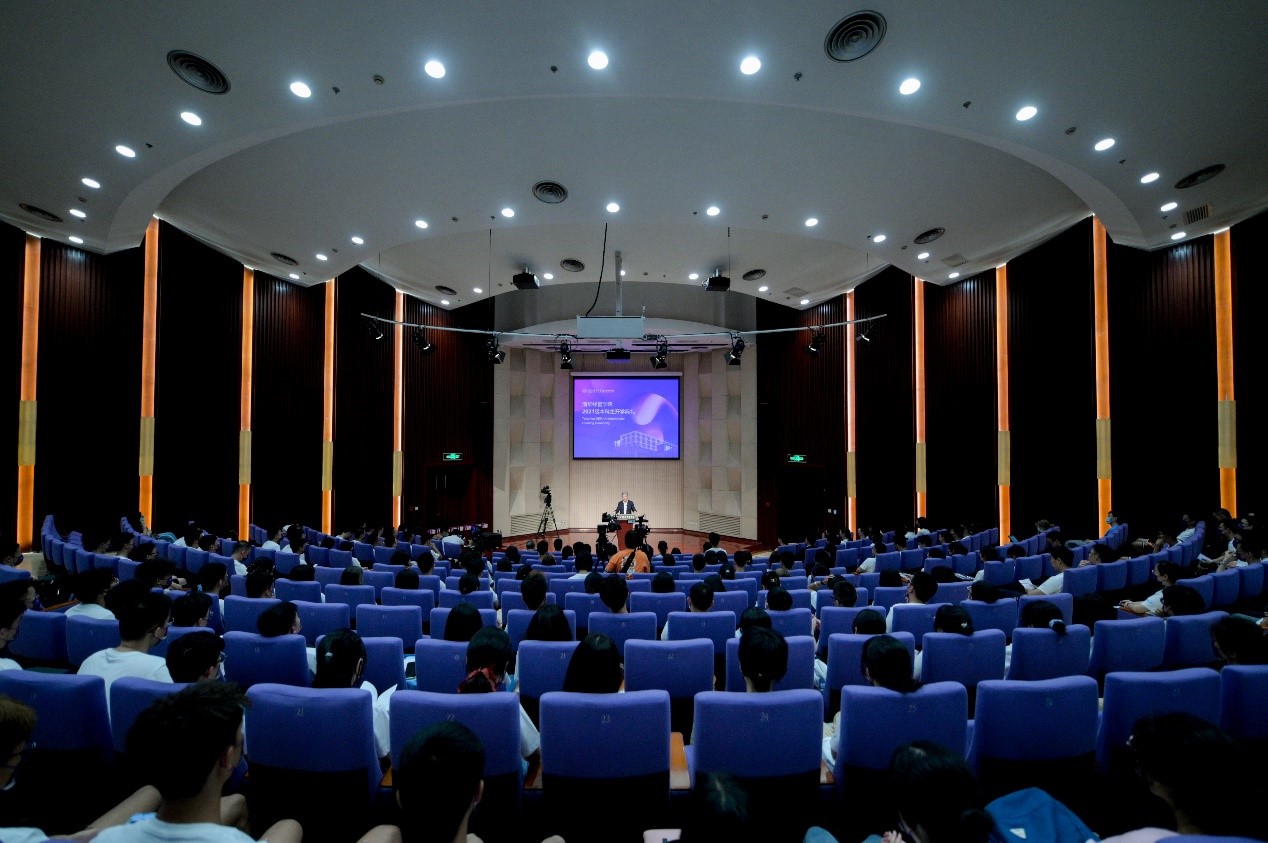 The SEM opening ceremony
SEM undergraduate freshmen watched the opening ceremony of Tsinghua University undergraduate class of 2021 at the SEM branch venue, listened to Tsinghua University President QIU Yong's message to the freshmen, and speeches from representatives of teachers, senior students and freshmen. They also joined other representative of freshmen in wearing Tsinghua University badge in the main venue.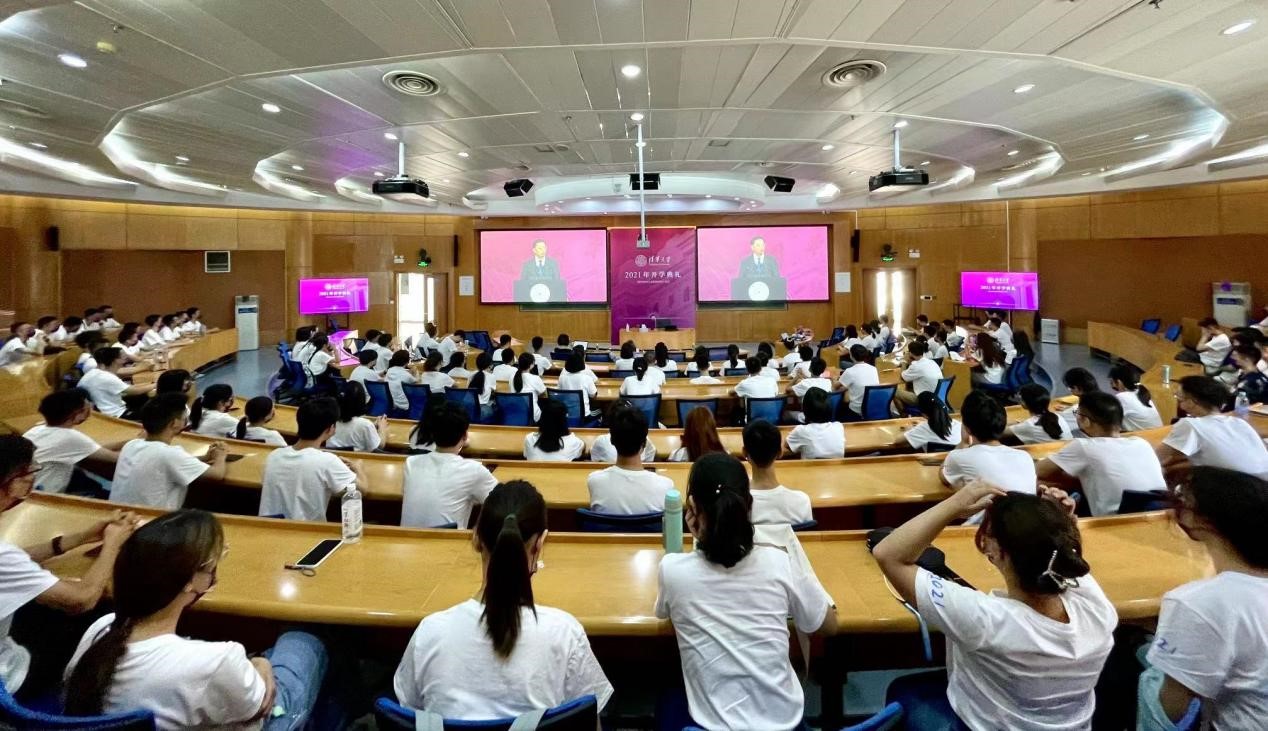 SEM branch venue at the Opening Ceremony for Tsinghua University Class of 2025 Undergraduates

Editors: REN Zhongxi, Li Ying, Derrick Sobodash