Tsinghua University School of Economics and Management (SEM) held 2021 commencement ceremony at the SEM New Buildings palace on June 27, 2021.
Graduating students of the class of 2020 and 2021 participated the ceremony with faculty and staff. The students and their families who were not able to join the ceremony in person attended via video link. The ceremony was hosted by Dean Bai Chong-en.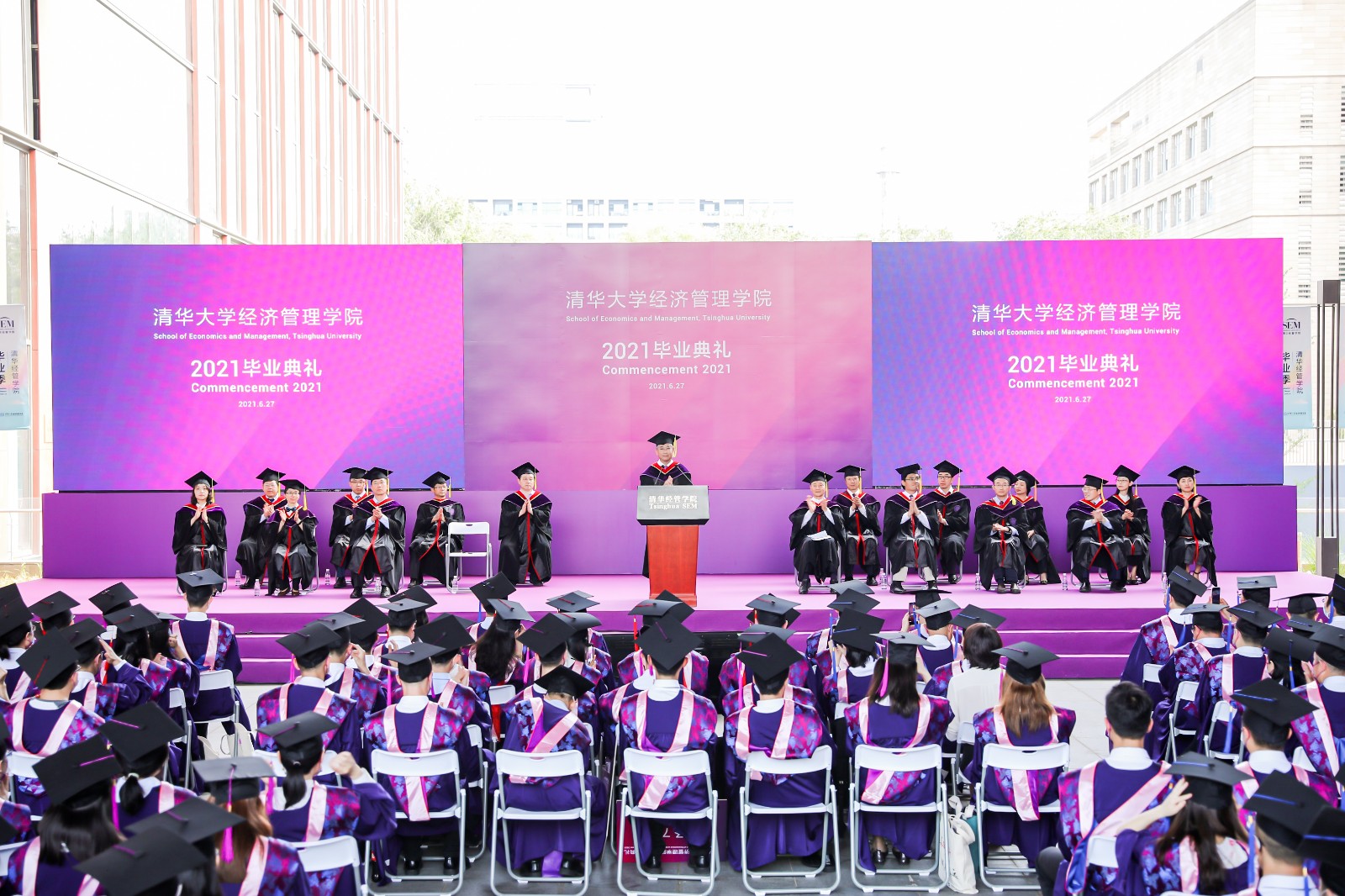 The 2021 commencement ceremony of Tsinghua SEM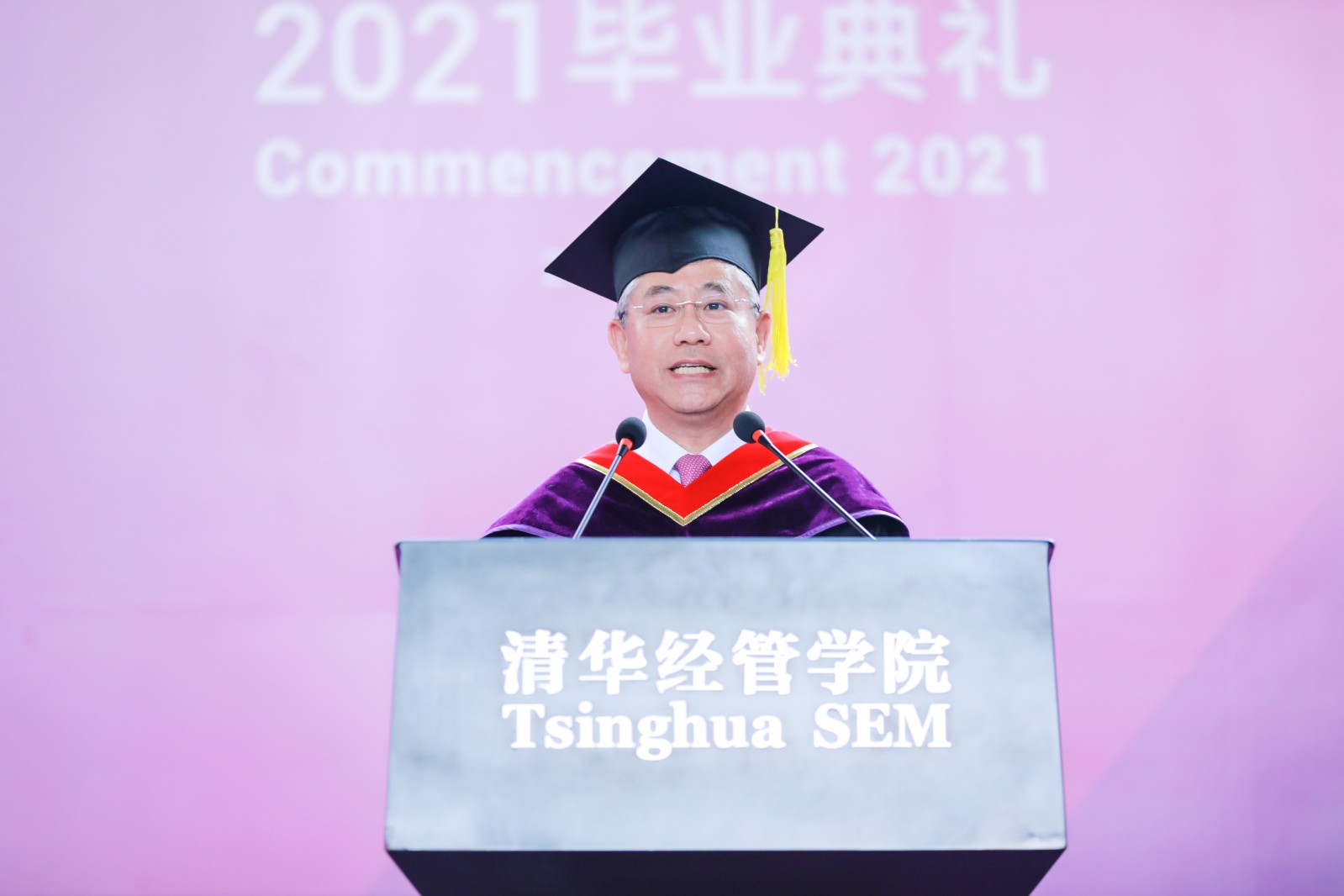 Dean Bai Chong-en hosted the ceremony
The total number of graduating students in the academic year of 2020 to 2021 was 1,833. 286 Tsinghua SEM students were awarded the bachelor's degrees. 451 students were awarded the second bachelor's degrees. 1,031 graduates were awarded the master's (including MBA and EMBA) degrees. 65 graduates were awarded the doctoral degrees.
An awarding ceremony of "In Memory of Teachers: Chen Daisun Scholarship" was held at the commencement. Three undergraduates (Wang Tianyu, Song Yihan and Ran Shirui) were awarded. The scholarship serves as the highest honor for SEM undergraduates.
The awarding ceremony of "In Memory of Teachers: Chen Daisun Scholarship" (left to right: Bai Chong-en, Ran Shirui, Song Yihan, and Wang Tianyu)
On behalf of all the graduating students, 8 valedictorians delivered speeches on site or by video. They reviewed their life on campus, shared their insights and wished all the students a promising future.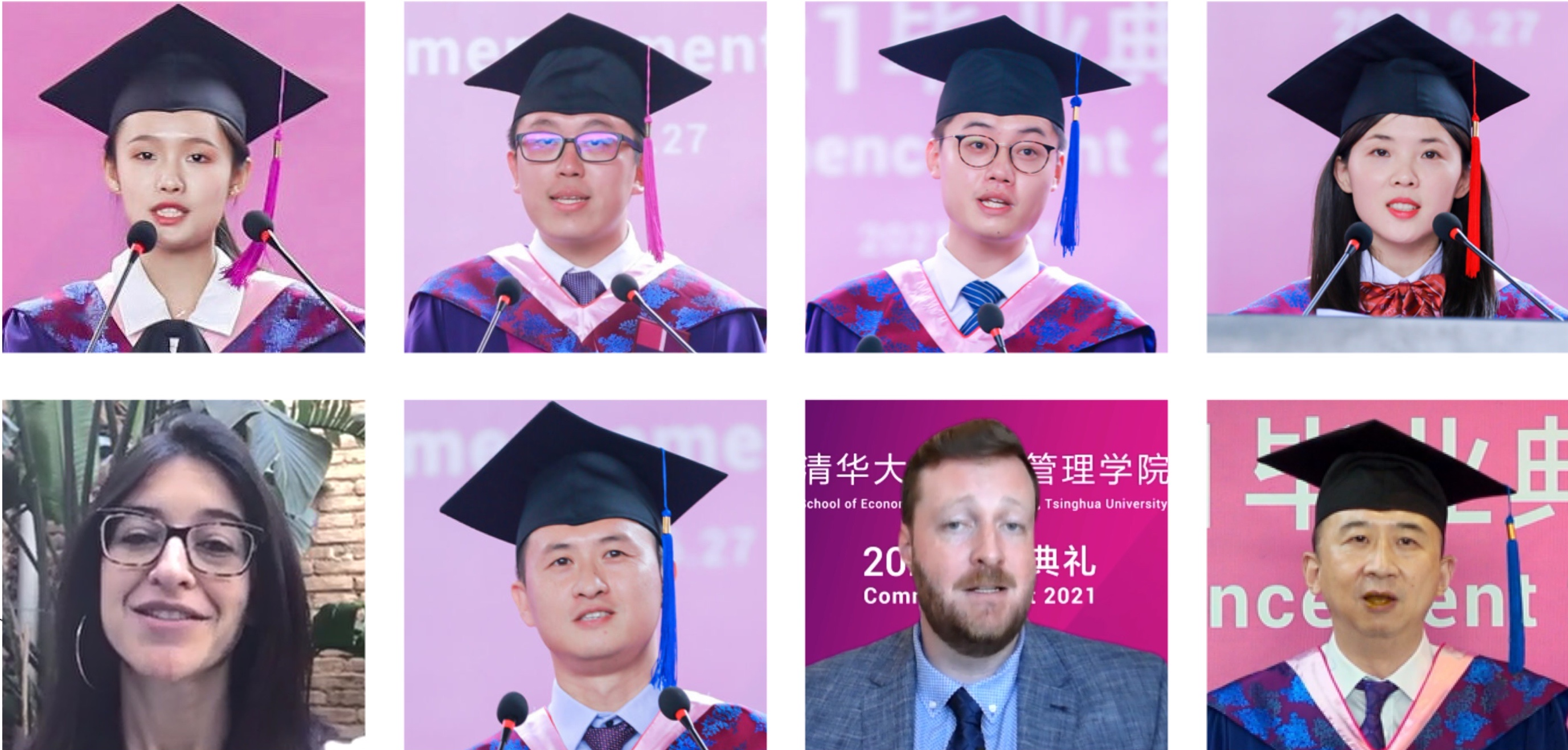 Valedictorians (left to right in the first row: undergraduate Ran Shirui, undergraduate with second degree Ding Zijun, master student Zhang Zijie, and doctorate student Guan Yue; left to right in the second row: GMBA student Veronica Rodriguez, MBA student Wang Xin, Tsinghua-INSEAD EMBA student Keith Martin and EMBA student Jiang Xiaofeng)
Si Zefu, an alumni who graduated from SEM MBA program in 1993 and is working as the Chairperson and Party Secretary of Harbin Electric Corporation, delivered a speech to all the students. He avidly absorbed knowledge when he studied in SEM and devoted 40 years to China's manufacturing industry. Si suggested the students combine the choice of their lifelong career and the need of the nation.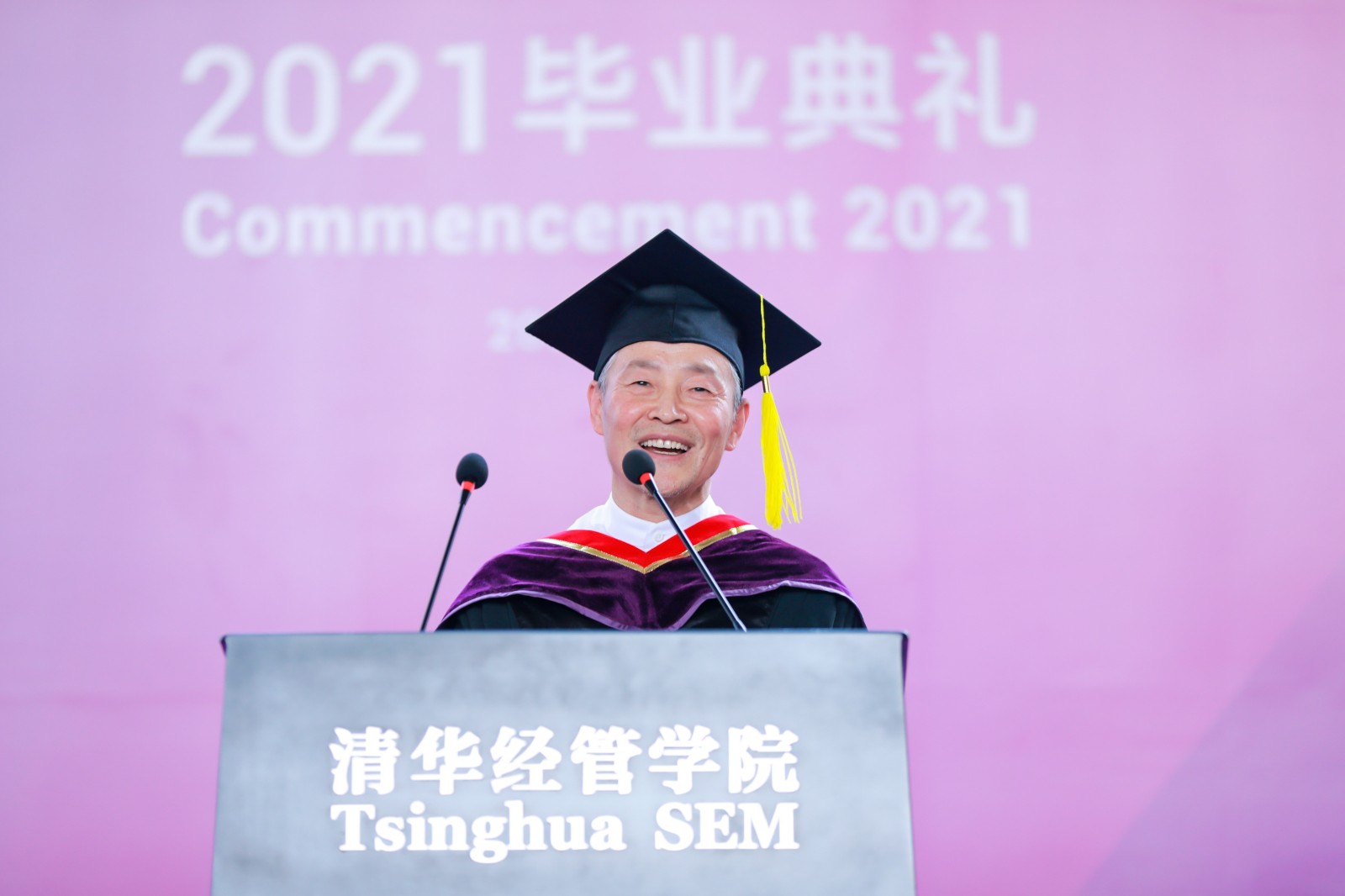 Si Zefu delivered a speech at the ceremony.
Dean Bai Chong-en expressed his hope for the students. "I hope you remember Si Zefu's expectations. Never stop learning and improving yourselves. China is experiencing unprecedentedly great changes. You need to take actions, grasp opportunities and make achievements," he said.
The ceremony ended with the singing of the Tsinghua University's school song.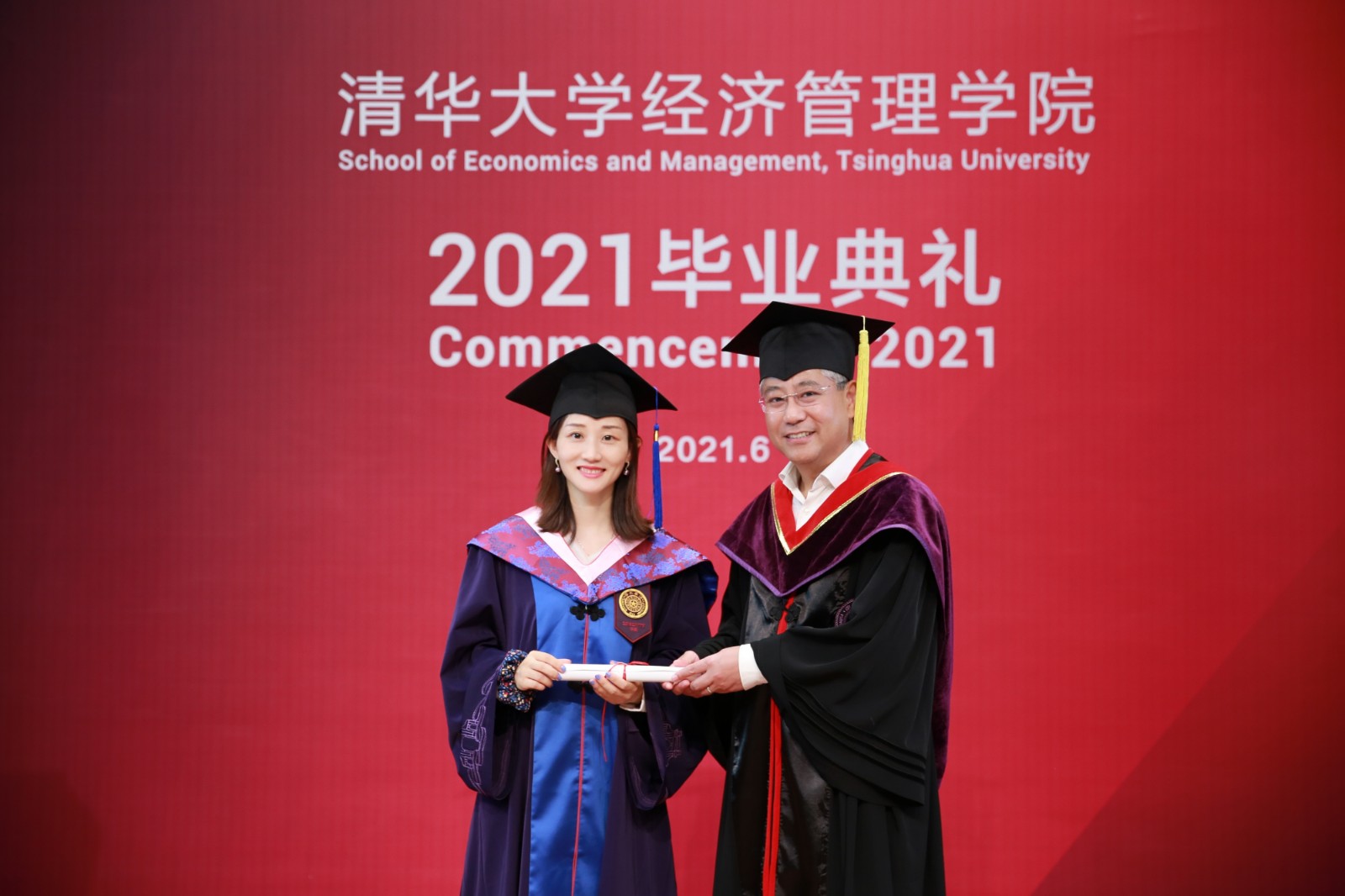 Dean Bai Chong-en took photo with every graduating student.