Date/Time
April 11, 2017, 19:00-20:00
Location
Weilun Auditorium, Tsinghua SEM
Topic
Building a Trusted and Enduring Brand in China and around the World
Moderator
Professor CHEN Yubo, Associate Dean, Tsinghua SEM
Guest
Professor QIAN Yingyi, Dean of Tsinghua SEM
Language
English
Notes
Entrance Time: 18:15
Admission by Ticket and Student ID
Food and Beverage Prohibited
Live Broadcast
tencent: http://t.cn/R6Fgujj
ifeng: http://t.cn/R6FgujH
sina: http://t.cn/R6FgujY
yicai: http://t.cn/RXvCanv
kankanews: http://t.cn/RXvMQtn
wenhui: http://t.cn/RXvMQtu

Speaker Bio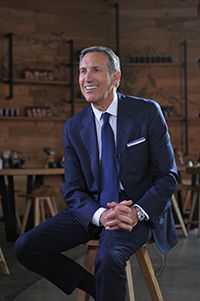 Howard Schultz
Howard Schultz, executive chairman of Starbucks, first walked into Starbucks in Seattle's Pike Place Market in 1981. Howard was invited into conversation with these connoisseurs who took great care in not only finding and roasting the highest quality coffee, but also sharing their passion with others. Drawn to Seattle and its extraordinary coffee culture, Howard moved from his native New York and joined Starbucks, in 1982, as director of operations and marketing when Starbucks had only four stores.
A year later, in 1983, Howard traveled to Italy and became captivated with Italian coffee bars and the romance of the coffee experience. He had a vision to bring the Italian coffeehouse tradition to America. He wanted to create a place for human connection, conversation and one that fostered a sense of community – a third place between work and home. He left Starbucks for a short period of time to start his own Il Giornale coffeehouses and returned in August 1987 as chief executive officer to purchase Starbucks with the help of local investors. Today, Starbucks is the premier purveyor of the finest coffee in the world, with more than 25,000 stores in 75 countries.
From the beginning, Howard set out to build a different kind of company, one that brings a sense of humanity and demonstrates respect and dignity. In these early days, Howard created two landmark programs that form the foundation of Starbucks culture. First, Starbucks offered comprehensive health coverage for eligible full- and part-time workers, among the first in the retail industry. Howard remains committed to health benefits despite the rising health care costs of the past two decades.
Second, Starbucks offered partners (employees) equity in the company in the form of stock, called Bean Stock. These early investments in people have proven that you can build a business that is profitable while sharing its success with Starbucks partners as well as the community.
Chairman since 2000, Howard resumed the role of president and chief executive officer in January 2008. Since his return, he has led a transformation of the company, bringing the company to sustainable, profitable growth with a renewed focus on Starbucks coffee heritage, innovation and the customer experience. He has also galvanized leaders both inside and outside the company to take action to help local communities. He spearheaded efforts to create small business jobs through Create Jobs for USA, and opened up new educational opportunities for Starbucks partners to finish school through the Starbucks College Achievement Plan.
At the heart of the Starbucks Experience today, just as it has been from the beginning, is Starbucks mission to inspire and nurture the human spirit – one person, one cup, and one neighborhood at a time.
Howard has been recognized for his passion, his leadership, and his efforts to strengthen communities. Howard was named Fortune's 2011 Businessperson of the Year for delivering record financial returns for the company while leading an effort to spur job creation in the U.S. He has also been honored with the Distinguished Leadership Award from Northwestern
University's Kellogg School of Management, Horatio Alger Award for those who have overcome adversity to achieve success; the Rev. Theodore M. Hesburgh Award for Business Ethics given by Notre Dame University's Mendoza College of Business; the Botwinick Prize in Business Ethics from Columbia Business School; and the first-ever John Wooden Global Leadership Award from UCLA Anderson School of Management. He has also been included in Time magazine's "Time 200," a list of the most influential people in the world.
Howard earned a B.A. from Northern Michigan University. Before joining Starbucks he spent three years in sales and marketing with Xerox Corporation. He was also Vice President and General Manager of Hammarplast U.S.A., a Swedish housewares company. He is co-founder of Maveron LLC, a venture capital group.
He is the best-selling author of For Love of Country (2014), Onward: How Starbucks Fought for Its Life without Losing Its Soul (2011), and Pour Your Heart Into It (1997).
Along with his wife Sheri, he is co-founder of the Schultz Family Foundation.